NEW RELEASES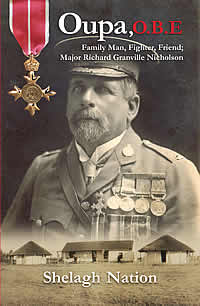 Family Man, Fighter, Friend ; Major Richard Granville Nicholson
Shelagh Nation
Few pioneers could have had as eventful life as Richard Granville Nicholson.
ISBN 978-1-928359-03-6
R185.00 + shipping
Softcover / 120 pages 43 b/w photos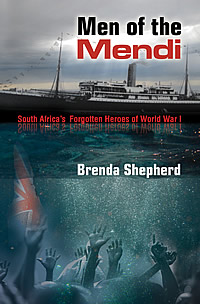 South Africa's Forgotten Heroes of World War 1
This is the story of the sinking of the SS Mendi during WW1, the bravery of the men on board and the ensuing inquiry conducted by the Board of Trade in London. The story follows the small band of survivors to France where they complete their tour of duty.
ISBN: 978-1-928359-04-3
R250.00 + shipping
Softcover / 320 pages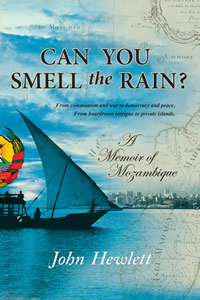 African Studies / Memoir / Biography
A Memoir of Mozambique: From communism and war to democracy and peace - From boardroom intrigue to private islands
This is a true African tale of persistence and tenacity. The story of a farmer and pilot raised in colonial Kenya who went on to play an active role in Mozambican politics whilst leading Lonrho's foreign investment in that country.
ISBN 978-1-928359-02-9
R295.00 + shipping
Softcover / 252 pages 46 colour & 13 b/w photos, 1 map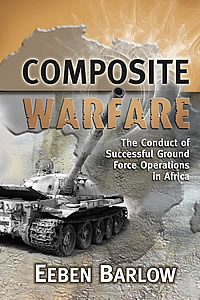 Composite Warfare
The Conduct of Successful Ground Force Operations in Africa
Composite Warfare presents African soldiers and scholars with a true African 'Art of War'. This book is intended as a guide and textbook for African soldiers and scholars who wish to understand the development of hostilities, strategy, operational design, doctrine and tactics. ISBN 978-1-928211-76-1
R350.00 + shipping
Softcover / 544 pages
100 b/w drawings & charts, 50 colour & 100 b/w photos photos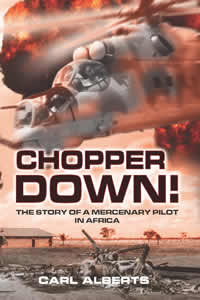 Chopper Down!
The Story of a Mercenary Pilot in Africa
After twenty years of armed conflict in Angola and political instability in coup-ridden Sierra Leone going back to 1991, private corporate financial interests became the catalyst that spawned the creation of possibly the most successful private military corporation to date: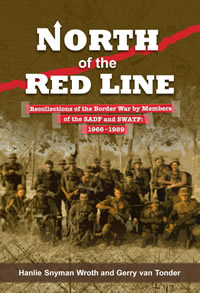 Recollections of the Border War by Members of the SADF and SWATF: 1966–1989
Over the years, much has been written about individuals and the forces and their operations in what became commonly known as South Africa's Border War, or Grens Oorlog, but never before has the human spirit of this 23-year-old conflict been so graphically and unashamedly captured and chronicled as in this book
ISBN 978-1-928211-97-6
R395.00 + shipping
Softcover / 568 pages
243 b/w photos, maps, illustrations