At 30 Degrees South, you can buy books online about
South African Military
African Military
SA Guide Books
Heritage sites of South Africa
Biographies
Guide Books
South African Humour
South African military poetry
Rugby
South African statesmen
NEW RELEASES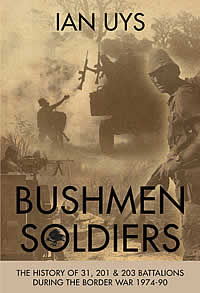 The History of 31, 201 & 203 Battalions during the Border War, 1974–1990
The Bushman soldiers were the most outstanding all-round fighters of the Border War. As the first of the indigenous population to take up arms on South Africa's behalf, they were among the last to lay them down. The border's oldest and most bush-wise people, they became feared as relentless trackers and dedicated soldiers. Coming from a primitive hunter gatherer culture, they responded well to a crash-course in modern warfare. Their use of automatic weapons and mortars, coupled with their phenomenal tracking abilities, made them a formidable fighting force.
ISBN: 978-1-928211-38-9
R350.00 + shipping
Paperback / 346 pages
240 b/w photos, 4 maps


South Africa's Cross of Honour
The Honoris Crux (Cross of Honour) was South Africa's premier gallantry decoration awarded to members of the SA Defence Force between 1952 and 2003. The stories behind over 300 of these awards and other medals for bravery are graphically told—ranging from outstanding valour in all types of warfare to exceptional heroism displayed in saving lives.
ISBN: 978-1-928211-67-9
R250.00 + shipping
Paperback / 310 pages
290 b/w photos, 3 maps


The Biography of an African Slave-Raider turned Askari and Scout
Mzee' is the Swahili word for an 'old timer', a respected elder. Mzee Ali Kalikilima was born near the present-day town of Tabora in western Tanzania, probably in the 1870s—there is mention of 'The Doctor', Dr David Livingstone—to black Muslim parents of noble birth. Aged 14, Ali led his first slaving safari to the shores of Lake Tanganyika and thence, with his caravan of captured slaves and ivory, through the malaria-, tsetse fly- and lion-infested wilds, to the Arab markets of Dar es Salaam, some 1,200 kilometres away on the Indian Ocean.
ISBN: 978-1-928211-63-1
R165.00 + shipping
Paperback / 224 pages
2 b/w photos, 2 maps


The Romance of the Desert
For hundreds of years the vast territory of the Kalahari remained a blank on the map. Yet it gripped the imagination of poets, painters, writers, dreamers, adventurers and not a few charlatans. This book is a whimsical anthology of those who were inspired by this desert, those who lived in its bitter confines and those who died in its dry embrace.
ISBN: 978-0-620595-71-1
R185.00 + shipping
Paperback / 132 pages
160 b/w illustrations
News Flash
Click on the images below to enlarge