At 30 Degrees South, you can buy books online about
South African Military
African Military
SA Guide Books
Heritage sites of South Africa
Biographies
Guide Books
South African Humour
South African military poetry
Rugby
South African statesmen
NEW RELEASES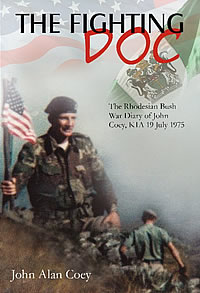 The Rhodesian Bush War Diary of John Coey, KIA 19 July 1975
It is Saturday afternoon, 19 July 1975, next to a dry riverbed in Rhodesia's north-eastern operational area, in a war against communist-backed guerrillas. A Rhodesian combat medic receives an order to descend into the riverbed to attend to two critically wounded troopers, their figures seemingly lifeless on the sand. The whereabouts of the insurgents is not known. As the medic, displaying a red cross, moves in, shots ring out and he sustains a fatal head wound. That medic is 24-year-old American John Alan Coey.
ISBN: 978-1-928211-65-5
R250.00 + shipping
Paperback / 200 pages
35 b/w photos, 1 map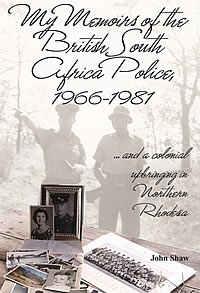 ... and a Colonial Upbringing in Northern Rhodesia
Throughout the author's life in Northern Rhodesia (now Zambia) his father was a member of the Northern Rhodesia Police and the author sets about recording various incidents in the life of a youngster growing up on the numerous towns and police stations at which his father served. The family moved to Southern Rhodesia in 1964. Finalizing his secondary schooling at Chaplin School, Gwelo, Rhodesia, in 1965, the author joined the British South Africa Police (BSAP) in March 1966 and elected to go into the district branch of the Force.
ISBN: 978-1-928211-71-6
R250.00 + shipping
Paperback / 256 pages
80 b/w photos, 2 maps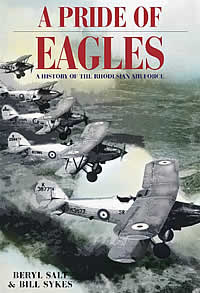 A History of the Rhodesian Air Force 1920–1980
This is the story of military aviation in Rhodesia from the romantic days of 'bush' flying in the 1920s and '30s—when aircraft were refuelled from jerrycans and landing grounds were often the local golf course—to the disbandment of the Rhodesian Air Force (RhAF) on Zimbabwean independence in 1980. In 1939 the tiny Royal Rhodesian Air Force (RRAF) became the first to take up battle stations even before the outbreak of the Second World War.
ISBN: 978-1-920143-73-2
R750.00 + shipping
Paperback / 856 pages
800 photos, 70 diagrams & maps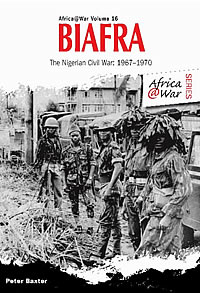 The Nigerian Civil War: 1967–1970
Nigeria was a unique concept in the formation of modern Africa. It began life as a highly lucrative if climatically challenging holding of the Royal Niger Company, a British Chartered Company under the control of Victorian capitalist Sir George Taubman Goldie. It was handed over to indigenous rule in 1960 with the best of intentions and a profound hope on the part of the British Crown that it would become the poster child of successful political transition in Africa.
ISBN: 978-1-909982-36-9
R195.00 + shipping
Paperback / 72 pages
130 colour & b/w photos, maps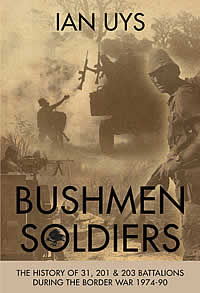 The History of 31, 201 & 203 Battalions during the Border War, 1974–1990
The Bushman soldiers were the most outstanding all-round fighters of the Border War. As the first of the indigenous population to take up arms on South Africa's behalf, they were among the last to lay them down. The border's oldest and most bush-wise people, they became feared as relentless trackers and dedicated soldiers. Coming from a primitive hunter gatherer culture, they responded well to a crash-course in modern warfare. Their use of automatic weapons and mortars, coupled with their phenomenal tracking abilities, made them a formidable fighting force.
ISBN: 978-1-928211-38-9
R350.00 + shipping
Paperback / 346 pages
240 b/w photos, 4 maps


South Africa's Cross of Honour
The Honoris Crux (Cross of Honour) was South Africa's premier gallantry decoration awarded to members of the SA Defence Force between 1952 and 2003. The stories behind over 300 of these awards and other medals for bravery are graphically told—ranging from outstanding valour in all types of warfare to exceptional heroism displayed in saving lives.
ISBN: 978-1-928211-67-9
R250.00 + shipping
Paperback / 310 pages
290 b/w photos, 3 maps
News Flash
Click on the images below to enlarge